Residential interior Shutter door
Sombra
Model Number: SDS009018
CALL NOW & Let it ring FIVE times to get answered... we're onsite most of the time measuring windows or installing :-)
---
Product Description
Details
Packaging & Shipping
SDS009018 SOMBRA Residential interior shutter door
Hand Operable or Adjustable aero blades with a slim frame suitable for windows and other applications.
Also called :
Commerical Aluminium shutter door

Sliding window shutters

Adjustable window shutters

90mm adjustable sliding shutter door

Louvered windows

Shutter door

Exterior louvered door

Residential aluminium shutter door

90mm adjustable shutter door

Exterior aluminum shutters

Exterior aluminum window shutters

Closed blades Sliding shutter door

Dual track sliding shutter door

Open blade sliding shutter door

sliding shutter door

115mm Operable Aluminum shutter door

Adjustable aluminum shutter door

Exterior shutter door

Aluminum shutter door

Exterior aluminum shutter door
Blade sizes & Features :
Aero Blade sizes :55mm,68mm,90mm ,115mm Aerofoil blade

Operable or Adjustable blades

Finishing : Powder coating , Natural Anodise

Installation or Mounting :

Frame : Optional

Sliding Shutters
End Fixed Bi-folding shuttters
Fixed Mount shutters
Hinge Mount shutters
PURE SHUTTERS SOMBRA Aluminium Shutters has multiple applications listed down below .
With its versatility and various mounting capabilites ,It is a favourite choice for Architects,Builders,end-consumers and other users .
SOMBRA can be mounted with various combinations due to its ease of installation and performance.
The Aluminium blades are shaped to Aerofoil type to have a smoother flow of air and were wind design tested to NZ3604 from Self weight ,low wind zone to extremely high wind zones which are also equivalent to Australian Standards of Category 1 to 4 wind zones .
Suitable to any locations specially in tropical areas ,Nearby the sea or beaches, Windy terrains and other harsh climates.
Materials used:
1. Aluminium Material :
Made of AL6063,
Minimum thickness at 1.2mm ,
Tempered to T5 or T6
AS1231 Compliance
2. Stainless steel components:
SUS 303 & 304
3. Plastic components:
Anti UV
Anti Brittle
100% Virgin Material
Strong ,Rigid & Susceptible to high & Low outside Temperature ( 120 Deg C to -25 Deg C) .
Multiple Applications:
Exterior Sun Shading

Interior Sun Shading

Exterior Facade

Wall Partitions

Doors

Windows

Privacy

Awnings

Ceilings

Bathroom Shower doors

Bathroom Windows

Carport doors

Wall Dividers

Kitchen window shades

Ktchen window

Veranda shades

Ballustrades (70mm gap spacing,Safety Compliance)
Residential interior Shutter door
Sliding mount assembly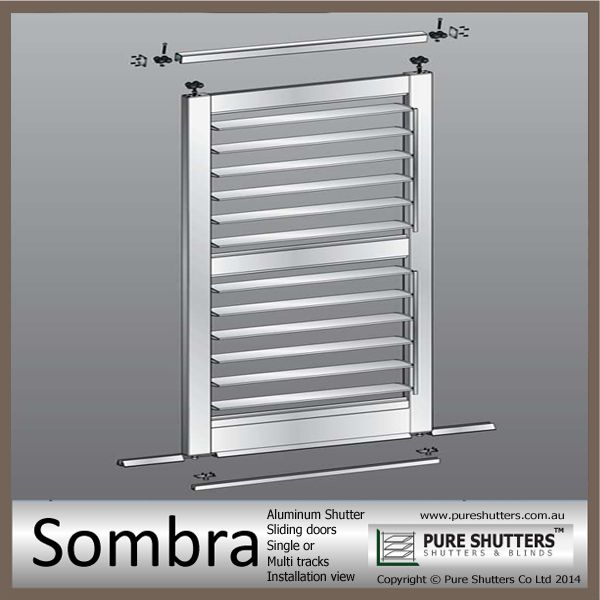 Other applications:
Sliding shutter doors compliments with Glass Aluminum door

Sun shade aluminum louvers

Aluminum shutters either mounted in front or back of window glass

Sliding shutters with Aluminum adjustable louver

Excellent for window shade

Sliding door aluminum for window security shutters

Sliding shutters with manually adjustable louver blades like air conditioner louver

Exterior aluminum shutters

Aluminum sun louver

Sliding window shutters
Great subsitute for the following items below that will not bring much thermal comfort , durability and requires much maintenance which translates to more costs for end-users :
Plantation shutters - Needs frequent maintenance , Prone to cracks ,needs repainting

PVC blinds - Toxic PVC for the environment , Prone to warping , Limited panel widths

Blinds - Not durable

Outdoor blinds - Not suitable for high winds , Not easy to maintain , Not durable

Blinds between glass doors - Unrepairable , Not durable
Quite adaptable to any application or complimentary function to :
Doors

Aluminum louver door

Louver gates

Glass windows
Wind Design tested in accordance with Aluminum structures AS/NZS 1664.1:1997
Free standing structures -Shutters free standing

Fixed to Buildings - Shutters fixed to an existing building

Category 1 to 4 (Australia)

Various wind zone(New Zealand) :Wind zone in line with NZS 3604:2011
Packaging :
Aluminum Shutter blades are interlaced with copy paper ,

Panels are wrapped with plastic sheet ,

Sides and corner protection ,

Partitions front and back ,

Outside carton ,

Outside markings and strapped
Shipping :
20 or 40 foot container
LCL or FCL

Contact:
Email:[email protected]
www.pureshutters.com.au

Type:

Shutters

Place of Origin:

Guangdong, China (Mainland)

Brand Name:

PURE SHUTTERS

Model Number:

SDS009018 Shutter door

Material:

Aluminum Alloy, AL6063,Aluminum Alloy

Opening Pattern:

Horizontal

Sombra 90mm:

90mm Aerofoil shape blade

Finishing,Coating:

Powder coating,60 microns,AS3715,AAMA 2603 & 2604

Finishing,Anodising:

Natural Anodise,Sand Blasted,20microns,AS3715

Installation:

Sliding,End Fixed Bi-folding,Fixed Mount,Hinge Mount

Hardness:

Tempered to T5 or T6

Compliance:

AS3715:2002,AAMA 2603,AAMA 2604,AS 1231,NZ3604

Wind rating:

Design tested to NZ3604 / Category 1 to 3

Powder:

Dulux or Interpon

Warranty:

5 to 10 years